Stuartholme Performing Arts Scholarships for Music are available only to new students entering Stuartholme into Years 7 – 11.  Students already attending Stuartholme School are not eligible to apply for this scholarship. The only exception to this will be students entering Year 7 from Year 6 at Stuartholme. 
The Scholarships provide remission of tuition fees only for the duration of the students attendance at Stuartholme. Applicants for Performing Arts scholarships are not required to sit the ACER Scholarship exam but are expected to maintain adequate standards of academic achievement, to actively participate within the area of their scholarship within the School and to support the Goals of Sacred Heart Education.  
Applicants for a Performing Arts scholarship for Music will also be assessed based on an additional interview and audition. Successful applicants will be expected to demonstrate performance equivalent to the following minimum Australian Music Examination Board (AMEB) level for the relevant year level. This may be through evidence of formal achievement of the AMEB exam or practical demonstration.  Completion of the formal AMEB exams relevant for the year level will be required for scholarship holders once enrolled.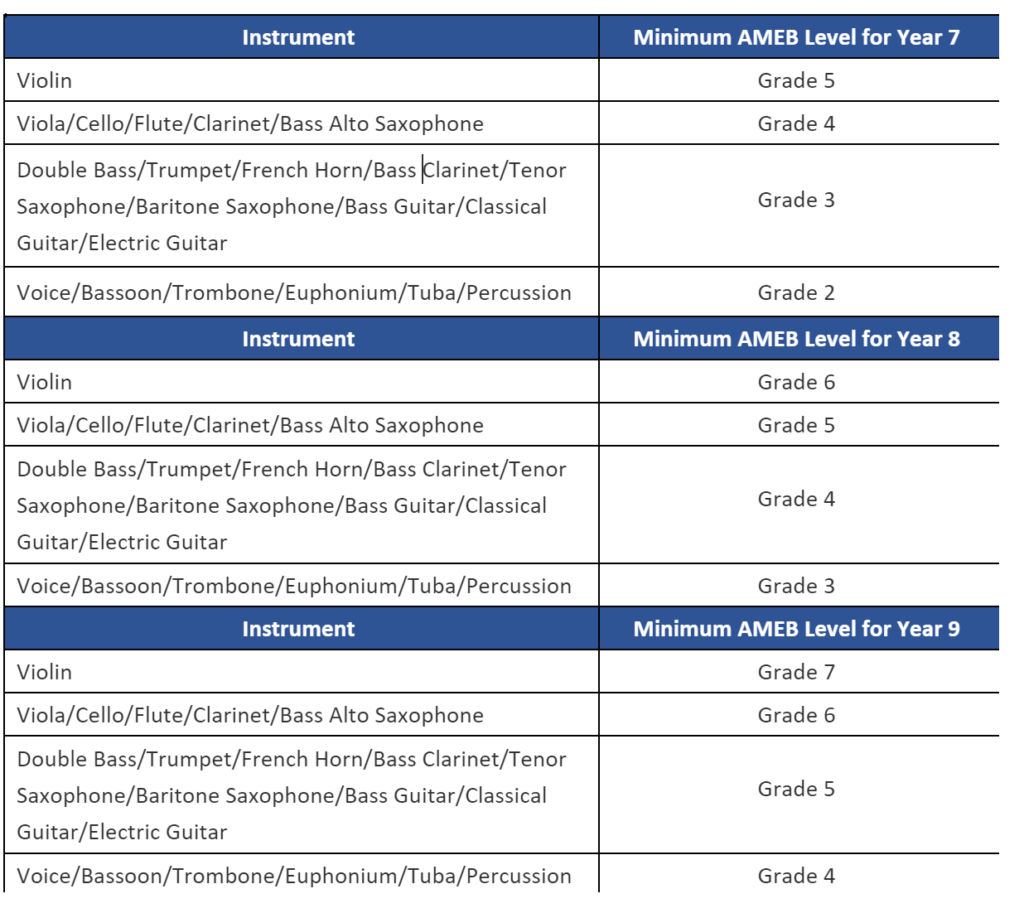 The award of a Performing Arts Scholarship for music will be at the sole discretion of the Principal.  
Currently, preference may be given to the following instruments as there is higher demand within the School's ensemble program: 
Cello

 

Bassoon

 

Double Bass

 

Euphonium

 
Oboe

 

Trombone

 

Tuba

 

Electric Guitar

 
Music scholarship holders will be expected to be actively involved in the school's music program for the duration of their scholarship, including but not limited to, involvement in the following: 
Ensembles;

 

Masses;

 

Liturgies;

 

Tours;

 

Concerts;

 
Tours; and

 

Community events.